Antique Toys to evoke Christmas Past

Antique Toys - evoking past Christmases
Wonderful Collections
When you want to find something that can be considered "one of a kind", it is hard to beat antiques. For Christmas it is the kind of gift you want to give. Collector's items are in a category by themselves – they have a story to tell of times past.
Such toys are prized all over the world for the stories they tell, and the eras they represent.
Collecting such toys is rewarding, enriching and also great fun. You can find antique toys at specialized online toy collecting web sites, garage sales, flea markets to name a few sources with the potential of discovering a real find at a bargain price.
The seller may not always know how rare the item is that they are offering for sale.
Antiques must – to be considered antique – be at least 50 years old, generally considered those made around WWII or earlier.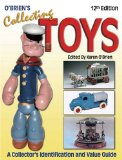 Such items could be the cast iron toy fire wagons and trucks, painted, wooden, pull toys, erector sets, some toy soldiers, tinker toys, early American, old board games, some early toy guns, comic characters such as Mickey Mouse and Donald Duck, old tin wind-ups and so on.
Don't forget antique dolls – the choice for the youngest girls in the family. Collecting vintage dolls or vintage paper dolls is enjoyed by many, many people today.
Though you may be tempted to just go to the nearest toy store when Christmas rolls around. Remember there are many and varied choices available. There are interesting antiques constantly rediscovered in attics and garages. They find their way to auction sites and other outlets just waiting to be discovered – by you!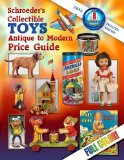 Readers have responded with many letters telling how they really enjoy Schroeder's Collectible Toys since we have added color and many more photos.
It still boasts values for over 20,000 toys in every category imaginable, action figures, banks, books, character collectibles, Disney, Fisher Price, Matchbox, trains, and many other categories of children's playthings dating from the nineteenth century to the twenty-first.
Schroeder's Collectible Toys has been highly acclaimed and enthusiastically accepted by toy collectors and dealers all over the country for more than 13 years! Backing the editors is a fantastic team of researchers and advisors who carefully check every line for up-to-the-minute accuracy.
This easy-to-use guide also lists reference books, clubs, and newsletters that cover specific fields of collector interest. That's why Schroeder's Collectible Toys is the #1 book the toy field has to offer.

Antique Toys
Custom Search