Christmas Concert in Nidaros Cathedral
Christmas Concert: A St. Olaf Christmas in Norway (DVD)
A PBS holiday special now available on DVD or CD offers a rare treat for viewers: an inspiring event featuring the renowned St. Olaf Choir with the Nidaros Cathedral Girls Choir, and soloist Randi Stene,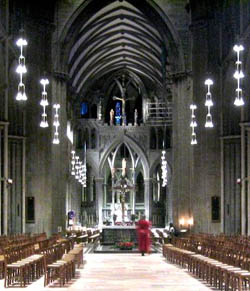 Filmed in the magnificent Nidaros Cathedral in Trondheim, Norway.
The one-hour holiday special, A St. Olaf Christmas in Norway, aired nationwide on PBS. The show was also broadcast in Norway and distributed internationally by the Norwegian Broadcasting Corporation (NRK).
The program was produced in HD (high definition).
Filmed in Trondheim's historic Gothic church built in 1070, the program showcases two countries and two choirs, presenting traditional Christmas hymns sung in both Norwegian and English.
Featured performers include the renowned a cappella voices of the St. Olaf choir from St. Olaf College in Northfield, Minnesota, conducted by Anton Armstrong; the Nidaros Cathedral Girls Choir from Trondheim, conducted by Vivianne Sydnes; and noted Norwegian mezzo soprano Randi Stene.
The concert features Christmas songs of peace and joy that are timeless and a tribute to people of all nations.
This special is the seventh in a popular series of PBS holiday concerts that have featured the St. Olaf Choir. The Christmas concert commemorates the centennial of Norway's independence and the cultural roots of St. Olaf College, founded in 1874 by Norwegian Lutheran immigrants.
Singing in the majestic, 900-year-old Trondheim Cathedral was a highlight for the internationally known St. Olaf Choir, which has performed in prestigious music venues around the world since its founding in 1912 by F. Melius Christiansen, a Norwegian immigrant.
Christiansen established the choir's distinctive style of a cappella singing.
Nearly three years in planning, the A St. Olaf Christmas in Norway concert program is a co-production of St. Olaf College and NRK, the public broadcasting network of Norway in association with Twin Cities Public Television, based in St. Paul, Minnesota and one of the most-watched PBS affiliates in the nation.

Christmas Concert in Nidaros Cathedral CD