Christmas Ornaments to preserve your memories
Christmas Ornaments to preserve your memories
If you are amoung the many that value quality glass ornaments, this book may be a revelation to you.
George Johnson's book on ornaments adds a nice touch to any collector's bookshelf.
This new volume is largely about glass ornaments and happily includes a wide range of them.
Other chapters deal with Dresden ornaments, plus paper, wax, fabric, metal, and plastic decorations.
This easy to use, new pictorial Christmas ornament guide will be the ideal book to take on trips to antique stores and flea markets.
The captions of the almost 2,000 color photographs include the title of the piece, size variations, where made, reproduction information, rarity rating, and current collector value.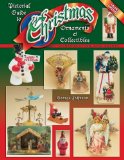 A brief introduction, history, and collector notes are included.
Glass ornaments of all types are featured: animals, beads, Santas, trees, buildings, crosses, food, patriotic items, and much more.
There are not only fabric ornaments, but wax, metal, Sebnitz, and others. There are also many miscellaneous Christmas collectibles featured, including lighting, candy containers, plaques, dolls, and other figures and decorations.
The ornaments that are in your own collection may even be mentioned. Wouldn't it be wonderful to notice that some of your own treasured heirlooms in the carton of ornaments finding an honored place at your house every christmas would also be mentioned in the book outlined above?
I remember from my own childhood the glass ornaments, those magically beautiful creations carefully preserved from year to year - how they seemed magical to a child's mind. Lovingly placed in the storage container after the holidays - to reappear again in a year for a new Christmas.

Christmas Ornaments

Home Page
Custom Search