Christmas Songs
How Many Christmas Songs Are There?
Have you ever wondered just how many seasonal songs there are out there? Around Christmas time, the radios play them, the stores play them over their loud speakers and people are constantly playing their favorite Christmas albums in their homes.
But how many are there? There are a whole lot, too many to count probably. But they've been passed down over the generations and they haven't really changed much. However, sometimes a new song will come out and will get equal play time with the classics. That means that there are new Christmas music coming out all the time, making the question as to how many there are really impossible to answer.
The Classics
We all know Frosty The Snowman, Jingle Bells, The Little Drummer Boy, Rudolph The Red Nosed Reindeer, White Christmas, and so on. However, there are many more than that.
These classic songs have been passed from generation to generation and they've remained constant. Sure, some artists come out with albums where they'll sing Christmas melodies and they'll add their own twist to them. They may sing the songs at a different tempo, they may add or take out words, or anything else they decide to change through creative license.
The basic song is still there and it's still recognizable as a classic.
The New Songs
Many artists will come out with new songs for Christmas time. Country stars are notorious for this, as they sing about Christmas time in the country. However, there is also funny Christmas music that comedians will come out with and these will often get a lot of playtime on the radio as well.
We all know how popular funny Christmas music an be, such as Grandma Got Ran Over by a Reindeer, but there are always new funny songs coming out every year.
What Makes A Song A Christmas Song?
We all know the songs - but how can you categorize them? Well, generally, if it has to do with Santa, winter time, Christmas of course, or anything else related to the holiday season, it's a Christmas song.
And because the songs vary so much, that only adds to the frustration of trying to count how many there really are.
If you ever get the time to try and count just how many such songs are out there, you had better start your count and finish it quickly because as soon as Christmas time comes around, you're going to have a whole new batch of songs to add to your enormous list.
The voice of Tennessee Ernie Ford is one of the finest - here's one of our favorite albums of Christmas Songs: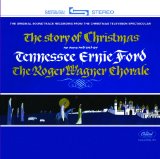 Reviewer:
This CD contains some traditional choir music, some old time hymns and one folk story.
It reminds me of an early American Christmas before radio and television when people gathered around the hearth to sing together, laugh together and tell folk stories.
I wish we did that now, ah, that's the life.

---
She catapulted to international stardom overnight with 500 million YouTube hits, smashed music records around the world with her triumphant debut album and now Susan Boyle returns with her eagerly awaited second album, The Gift.
The Gift, sees Susan Boyle and world acclaimed producer Steve Mac reunited to present a breathtaking seasonal album. Featuring yule time favourites 'The First Noel' and 'O Holy Night', Susan also fearlessly takes on iconic pop songs including 'Don't Dream It's Over' and 'Perfect Day' giving them a new identity.
Also making her musical debut on The Gift is American medic and winner of the International Susan Search, Amber Stassi. Amber & Susan perform a stunning and inimitable rendition of 'Do you Hear What I Hear'.
Now with a beautiful seasonal album she will, once again, defy critics and preconceptions.
Susan explained; "When making this album, I really wanted the songs to touch hearts.
Music has always been a companion to me, particularly on special occasions. I wanted there to be a mix of songs that would flow with all our moods this holiday season.
As much as the season is a time for reflection, it is also a time for fun and enjoyment with those closest to us."

Christmas Songs - Christmas Rhapsody