Christmas Gift Baskets
Christmas Gift Baskets Are Inexpensive
And Easy To Make
Do you have a couple of people on your Christmas list who you don't really want to spend much money on?
That's not to say that you're being mean, it's just that you may not know these people all that well and really have no idea what they'd want anyway. A good example of this type of person is your mailman, your garbage men or a coworker who just started with your company; something to that effect.
For these people on your list, a Christmas gift basket is a great way to show you care without having to spend a lot of money.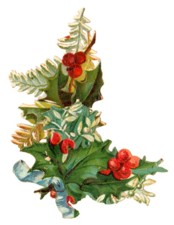 Personalized
The great thing about Christmas gift baskets is that you can personalize it to fit with the person you're making it for.
If you're making it for your mailman, for example, you can decorate it with mail related items.
You can fill the Christmas gift baskets with whatever you'd like and you don't have to spend a lot of money on it. However, it does make a very nice gesture and it's got that personal touch that everyone would appreciate.
Coming Up With Ideas
When you're going over some Christmas gift ideas for what to put in your basket, think about what you do know about the person. Think back to discussions you may have had and try to remember something they said they liked.
If they like chocolate, for example, fill it with their favorite candy. If you don't know anything about the person, put something in there that they may be able to use. Maybe a bottle of wine and a bottle opener or something like that.
Anything you put in the Christmas gift basket will make a great gesture and the person will likely love it.
Making The Basket
To make the Christmas gift basket, simply buy a basket, some straw or tissue paper, some clear wrap, a bow and the items to go in the basket.
Put the tissue paper or straw in the bottom of the basket and then put the gifts on top. Wrap the Christmas gift basket with the clear wrapping and tie it closed with the bow.
There you go; you have a great Christmas gift idea and it only took you a few minutes to make it. So if you're stuck on what to buy someone, make them a basket and show them you care by adding a personal touch.