Christmas good will to men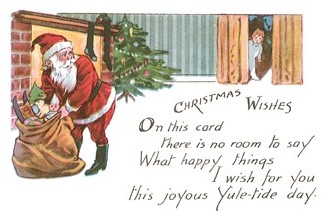 Christmas good will to men – peace on earth
Circles are broken, families are separated, loved ones are lost, but the old world sweeps on. Others come to take our places.
As we stood at the knee of some unforgotten mother, so other children stand. As we listened to the story of the Christ Child from the lips of some gray old father, so other children listen and we ourselves perchance are fathers or mothers too.
Other groups come to us for the deathless story. Little heads which recall vanished halcyon days of youth bend around another younger mother.
Smaller hands than ours write letters to Santa Claus and hear the story, the sweetest story ever told, of the Baby who came to Mary and through her to all the daughters and sons of women on that winter night on the Bethlehem hills.
And we thank God for the children who take us out of the past, out of ourselves, away from recollections that weigh us down; the children that weave in the woof and warp of life when our own youth has passed, some of the buoyancy, the joy, the happiness of the present; the children in whose opening lives we turn hopefully to the future.
We thank God at this Christmas season that it pleased Him to send His beloved Son to come to us as a little child, like any other child.
We thank God that in the lesser sense we may see in every child who comes to-day another incarnation of divinity.
We thank God for the portion of His Spirit with which He dowers every child of man, just as we thank Him for pouring it all upon the Infant in the Manger.
===== From "A little book of Christmas" by Cyrus Townsend Brady

Christmas good will to men
Custom Search