Christmas Past
Christmas Past
There is one re-issue from the distant past that merits its name "The Spirit of Christmas Past".
As one commentator has said in a different context: Christmas brings out the best and the worst in us. Among what Thomas Love Peacock calls the 'many poetical charms in the heraldings of Christmas' there are eulogies by saints and diatribes from curmudgeons.
Christmas is expounded by divines, sung by rustics, deplored by philosophers, made mystical in stories and summed up in a line by the poet Elizabeth Jennings: 'The hush, the star, the baby, people being kind again'.
All that aside, there is a CD, the one discussed here:
The Spirit of Christmas Past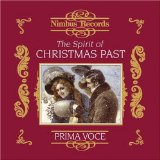 When the Spirit of Christmas Past paid a visit to Ebenezer Scrooge in Charles Dickens's 'A Christmas Carol' his intention was to treat that stony-hearted gentleman to an experience he would never forget.
In evoking the identical Spirit of Christmas Past the Nimbus Company is displaying the same intention towards the listening public; but this time, in sharp contradistinction to the case of Scrooge, the experience can hardly fail to be one of undiluted pleasure.
You are invited to be a guest at the Nimbus Christmas party, an event which, to maintain the Dickensian parallel, echoes not the old miser's 'dark night of the soul', but rather the joyous festivities laid on for Mr. Pickwick and his friends at Dingley Dell.
Christmas Past
There they were entertained to a Christmas carol sung by their host, the genial Mr. Wardle, 'in a good, round, sturdy voice'. Nimbus can justly claim to have gone one better - listeners to this disc will be entertained by a couple of dozen of the best, roundest and sturdiest voices ever to be gathered together under one yuletide roof.
When dinner of this Christmas Past is over and singing time begins, who better to set the ball rolling than that most convivial of tenors, John McCormack?
The American writer Henry Pleasants describes him in his book 'The Great Singers' as 'in private life gregarious, garrulous and disputatious', he was also a devout Roman Catholic - he would scarcely have been made a Papal Count had he not been - and in his rendering of Adeste Fideles we hear religious fervour expressed with all the ease and smoothness of emission which made him such an accomplished singer of Italian opera, not to mention his beloved Irish songs.
If McCormack was a passionate patriot so too was the great Czech soprano Emmy Destinn. One role written with Destinn's voice in mind was Minnie, the bible-reading proprietress of the Polka Saloon in Puccini's La Fanciulla del West, and at the opera's premiere in 1910 her partner was that undisputed king of tenors.
Though he possessed the figure popularly ascribed to most opera singers our next guest, Charles Laughton, belonged to the world of theatre and film. Should you think of him exclusively as that much maligned mariner Capt. Bligh or as that portly uxoricide King Henry VIII you may be surprised by his sensitive approach to the story of the Nativity - you may also be surprised by the extent to which fashions have changed in the pronunciation of certain English vowels.
Laughton is not the only Briton in this distinctly cosmopolitan gathering of Christmas Past because to keep him company we have some of his compatriots performing Stainer's arrangement of that fine old Christmas song known as The Coventry Carol. Well might they style themselves 'The Celebrity Quartet', because in the inter-war years the names of Isobel Baillie, Gladys Ripley, John McHugh and Harold Williams were synonymous with all that was best in English oratorio singing.
The next guest to rise from the Christmas Past festive board is our first American born and bred, the tenor Richard Crooks. Nobody present is better qualified to sing religious music, as he first made a name for himself as an outstanding treble chorister and then, after serving during World War I in the American Air Corps, as soloist in a New York Presbyterian church.
Once he turned his attention to opera the splendidly steady line which he maintains through the flowing phrases of César Franck's Panis Angelicus regularly characterised a repertoire stretching from Des Grieux in Massenet's Manon From the touch of caressing velvet we move to the ring of burnished brass.
When Giovanni Martinelli used to thrill the Met audiences as Radames, Manrico and Otello the instrument to which critics most regularly compared his heroic tenor was the trumpet. It was a trumpet which blazed forth gloriously for many a long year - he made his debut in Milan back in 1910 and though he officially retired from the stage in 1950, when he was 65, he was back again at 82 singing the Emperor in Turandot.
In Gesu Bambino he offers our festive company a rare treat, that of hearing him in a delightful version of the English tongue. Though you may miss a word or two here and there you will not miss the crowning high B flat!
In our next guest from Christmas Past, Paul Planel, we meet a singer of a very different kind. The outstanding French concert tenor of his generation, within two years of his debut he attracted widespread attention by winning the 'Grand Prix du Disque' with his recording of Berlioz's L'Enfance du Christ, and with his gentle, intensely personal depiction of Le repos de la Sainte Famille he brings a hushed and thoughtful mood to the proceedings.
His theme of the Holy Child at rest is promptly taken up by Lotte Lehmann's friend and colleague, so often the Sophie to her Marschallin or the Marzelline to her Fidelio, that most bewitching of sopranos, Elisabeth Schumann. Wolf's setting of Mörike's Schlafendes Jesuskind is no superficial cradle-song, however, and with the solemnity of her address to the infant Jesus asleep 'on the wood of sorrows' Schumann proves that for all her usual gaiety her interpretational range also embraces the deeper emotions.
Another singer who, like Schumann, established himself as a supreme interpreter of German classical song was the tenor Karl Erb. In his prime one of the stars of the Munich State Opera, he was famous in the Mozart repertoire and he created the title-role in Pfitzner's Palestrina. Following a severe accident in his early fifties he, too, restricted himself to concert work, and in his contribution to our festivities he displays the perfect diction and imaginative delivery of the born story-teller. Loewe's touching tale of the stray child lost on Christmas Eve would certainly have been one to appeal to Dickens, and thanks to the miraculous intervention of the Holy Child it has a happy ending, entirely in the spirit of our festive gathering.
At this Christmas Past event, to prove that high spirits and piety can go hand in hand one need look no further than Mozart's motet Exsultate, jubilate; and to prove that it is not only high sopranos who can sing dazzling coloratura that lovely contralto Sigrid Onegin now rises to her feet and treats us to a section of it.
If Onegin's voice offers a rare blend of fullness, brilliance and flexibility what can one say of the next guest on our list? The story goes that Lotte Lehmann once asked Geraldine Farrar the rhetorical question 'How does one get a voice like Rosa Ponselle's?' and received the prompt reply 'By special arrangement with God'.
Apocryphal, perhaps, but it is a matter of fact that from 'a flow of molten gold' to 'the rarest of vintage port' critics were eternally searching for something rich enough to serve as a comparison with that amazing instrument. Discovered by the Met after a brief career in vaudeville Ponselle made her debut at the age of 21 singing alongside Caruso in La forza del destino, and despite nearly dying of nerves she took the opera world by storm.
In this offering from Christmas Past, her rendering of Ave Maria may not be Schubert singing as Karl Erb understood it, but it is... well, a flow of molten gold. The stickler for Schubertian scholarship might well feel that our next guest's contribution strays even further from the strictest tenets of Lieder-singing, but if anyone round our table raised the faintest objection to the Wiegenlied In the voice of one of Gigli's most regular operatic partners, Claudia Muzio, 'La divina', 'the Eleanora Duse of song', the sunshine filters with a fascinating 'chiaroscuro' through a veil of darkness. Hers are not untroubled tones any more than her life was an untroubled life, and the haunting beauty with which she murmurs the word 'dormi' in Max Reger's Cradle-song of the Virgin is a sound which, once heard, one cannot easily forget.
I remember the great English prima donna Eva Turner telling me in her old age that Muzio was the singer who had made upon her 'the deepest impression of all', and I envisage a brief silence falling on our Christmas Past company as her last phrase dies away.
In case too muted a mood should be established, though, up springs that extrovert troubadour and bon viveur, the baritone John Charles Thomas, a man whose virile tones and engaging personality made him one of the most popular figures in American music, hailed alike by operatic audiences, the concert public, and the man (and woman) in the street. There was one other American baritone, too, who became a household name during the inter-war years, and that was Lawrence Tibbett.
When the applause dies down after John Charles Thomas' carol there is no doubt as to who will be the next guest on his feet. With a cordial message to one and all Tibbett proceeds to display a vocal 'roundness and sturdiness' which must surely put poor Mr. Wardle in the shade - it was, after all, enough to make Tibbett one of the most compelling figures at the Met for no less than 27 seasons.
The evening is drawing to a close, and it is time once again for the spoken word. For a brief moment, as he impersonates Saint Nicholas issuing orders to his reindeer, that splendid actor Basil Rathbone gives us a reminder of the sharp, incisive articulation which made him the suavest and most deadly Sir Guy de Gisborne in cinema history, as well as the ultimate Sherlock Holmes.
Tonight, however, he is not here to make our flesh creep, and his tale of The Night before Christmas will not disturb the subsequent slumber of the youngest child at the party. For them, bed-time is near. The bells ring out again, and to close our festivities, a dignified, grey-haired figure rises from the table.
The legendary Ernestine Schumann-Heink, her operatic career a story of international triumphs over a span of more than fifty years, mother to eight children and grandmother to heaven knows how many more, a lady beloved of all, whose artistic integrity was rivalled only by her down-to-earth common sense - by general consent the last word must be hers. During World War I she sang tirelessly to the American troops, and in the words of one reporter 'music-hungry doughboys thrilled as her Stille Nacht rushed with harp-toned wings into the air over hushed regiments'.
By this stage of the evening we can scarcely be described as music-hungry, but the thrill remains unimpaired.
The end of Scrooge's adventure with the Spirit of Christmas Past was 'that he knew how to keep Christmas well, if any man alive possessed the knowledge'. What bad luck for him, though, that he lived before the invention of the gramophone.
© 1994 Nigel Douglas