Fairytale Denmark
Fairytale Denmark
Denmark has been called a fairlyland. And as one travels through the well tended fields of the countryside, one begins to believe that this country is indeed a fantasy – fairytale Denmark.
Ancient mooted castles loom over dark beech forests, and immaculate white farm buildings flank meadows startlingly green and peaceful.
Villages filled with old crooked half-timbered cottages are inhabited by people who smile and say "God dag" ("Good Day") to strangers they meet along the narrow, cobbled streets.
Storks, which arrive from Egypt in the spring, nest atop chimneys that cast twisting shadows across thatched roofs.
Wild swans silently glide among water lilies floating on the surface of deep ponds.
The cities which rise out of green field and the bluer green sea, are crowned with fantastic spires fashioned like giant dragons sculpted in mottled copper. There is a queen who resides in a baroque palace protected by guardsmen in tall, bearskin hats.
There is a place called Tivoli, a dreamland of pagodas, Chinese temples, and mosques out of the Arabian Nights, that is set in the center of a city of fountains and amid neat rows of houses painted pink and beige and powder blue.
Black faced chimney sweeps in battered top hats and red-coated mailmen on yellow bicycles patiently wait while a policeman stops traffic to allow a duck and her ducklings to portage from one canal to another.
It's as if all of Denmark were the invention of Hans Christian Andersen. Or was it the other way around? Were Hans Christian Andersen's tales the invention of Denmark?
The Danes call him H.C. Andersen, and he is a national hero. He viewed his own life as a fairy tale and his beloved Denmark as a fairyland, and he pictured it as such to the world.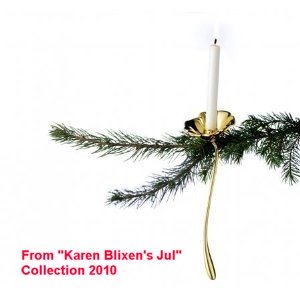 Another storyteller in the best Danish tradition was the author Isak Dinesen, real name Karen Blixen.
Her home at Rungstedlund, Denmark, is now a museum celebrating her life and her stories.
In 2010 Denmark is celebrating with a collection called "Karen Blixen's Jul" - a series of Christmas decorations by a famous Danish designer.
Part of the proceeds of these items will go towards new exhibits at Rungstedlund.



Karen Blixen's Christmas

Fairytale Denmark

Christmas in Denmark

Home Page
Custom Search