Hans Christian Andersen
Hans Christian Andersen
was born in Denmark in 1805. His father was a shoemaker and his parents very poor, but this did not prevent father and son from building up a fantasy world rich in strange figures and sceneries at the toy theatre in the shoemaker's small sitting-room. His father also read fairy-tales and comedies aloud.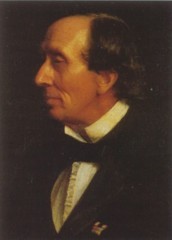 Already as a child he was regarded as odd. He was different. 11 years old he lost his father and 3 years later he decided to try his luck in Copenhagen possessed by the thought of one day becoming famous.
Incredibly difficult years followed. His attempt to attain his desires within the theatre world failed and his first literary works were not well received.
Even though his authorship covered a wide field it was his fantastic ability as observer and narrator and his inimitable fantasy that should bring him the fame he so much aspired to.
In 1835 his first fairy-tales were published. They were told in a way and contained so deep perspectives that not only children but also grown ups were moved.

The Fir Tree

The poetry and contents went across all frontiers and at his death in 1885 they had given him the fame he had hardly dared to hope for. Today the fairy-tales have been translated into more than 100 languages.
From Publishers Weekly:
Hans Christian Andersen and his work receive perceptive and uncondescending treatment from Financial Times arts critic Wullschlager (Inventing Wonderland).
In his autobiographies (and autobiographical novels), Andersen portrayed his life as a Danish Horatio Alger story, "the poor shoemaker and washerwoman's son" who rose to international prominence through a talent for storytelling.
While that summary is accurate enough in itself, that talent for storytelling led him to embellish some details, such as family stories about aristocratic connections, while obscuring others, particularly his unrequited attachments to the Swedish opera singer Jenny Lind and a series of stern and serious Copenhagen gentlemen.
Gauche and gawky, self-absorbed and self-pitying, Andersen nonetheless had his own personal charm and could hold audiences spellbound at his readings.
As one of the first Danish writers with an international reputation, he parlayed his fame into visits with assorted German princes and the likes of Franz Liszt and Charles Dickens.
Wullschlager gives a colorful travelogue of his restless journeys in Italy, France and England and contrasts them with his upbringing and adulthood in the parochial Denmark, which, as Wullschlager notes, felt stifling to his romantic temperament.
Yet he could work only in his homeland and needed its praise to the end of his life. That praise usually was for him as a children's author, but Wullschlager also reads into the adult themes and artistry of The Little Mermaid and The Snow Queen, as well as Andersens's adult novels, giving him full credit as a real, adult person. 24 pages of photos. Hans Christian Andersen : The Life of a Storyteller