Happy Holiday Hearth - The Christmas Hearth
Happy Holiday Hearth
Familiar Christmas carols and relaxing in front of a crackling fire epitomize the holidays. This DVD provides an instant, portable fireplace that's mess-free and burns brightly all evening.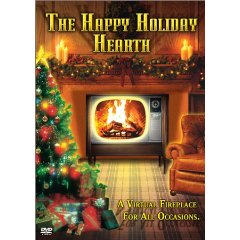 The mesmerizing flames are complemented by a choice of realistic crackling fire sounds, a holiday music track, or a combination of the two. The music track features traditional choral arrangements of classic Christmas songs like "White Christmas" and "Silver Bells" with full instrumental accompaniment.
A similar DVD, Fireplace: Visions of Tranquility, differs by offering multiple perspectives on a fire from ignition to the last dying embers and featuring all-instrumental Christmas carols performed in a baroque style as well as non-holiday-specific classical music. It also has full and widescreen options, and better sound (but it's also significantly more expensive).
For more traditional holiday carols, stick with Happy Holiday Hearth