Northern Yule
Northern Yule
In the Scandinavian countryside it is customary to set out a bundle of grain for the birds to feast on at Yule tide. It is called "julenek".
Since a picture is worth a thousand words it seems appropriate to include the scene from an old Scandinavian Christmas Card below:
The Nisse is the approximastion of Santa Claus or St. Nick - but he is quite different, the legend has it that his role in the scheme of things is to be a watchful presence on the farm - one who oversees the wellbeing of everyone - people and animals.
It was considered important to stay on his good side - not to cross him or upset him. The tradition of setting out porridge for him at Christmas is remembered to this day.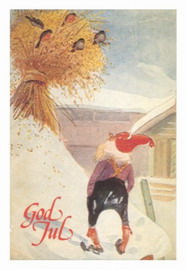 The old christmas card here depicts the "Nisse" surveying the wintry scene with the "Julenek" set up on the roof to give the birds their share of food at holiday time. The "julenek" or Christmas Sheaf is also shown in the collectible Christmas plate from 1911.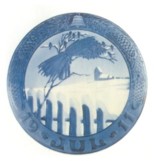 Nisse traditions

In Sweden - it's the Tomte
Riding to Church on Christmas Eve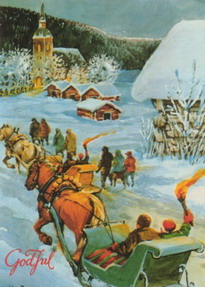 In parts of Scandinavia

it is the custom to ride to church in

horsedrawn sleighs

with the torches lit to lend an atmosphere

of festivity and celebration in the

cold and dark time of the year

representing Yuletide.

Celebrating northern yule
Yule was celebrated in Scandinavia and elsewhere on a variety of calendar dates before a Roman bishop decided that the birth of Christ should be placed to December 25. This happened about the year 300.
In Jerusalem it generated protests when the Christmas Day was transferred from January 6 in the year 440. The Norwegian custom of "drinking yule" was transferred to December 25 by King Håkon "the good" around the year 900. He had given up the attempt to bring christianity to Norway, but succeeded in moving the midwinter celebration to "the birthday of Christ".
The Scandinavian forebears drank yule for thirteen days, from December 24 to January 6. The church moved the new years celebrations to right after Christmas, this way the feasting could have the same duration as the norse celebrations of old. This is how Christianity eased into Viking society.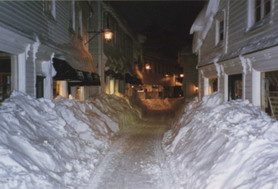 Winter evening in a small town in Norway
Custom Search