Norwegian Christmas
Norwegian Christmas
A Christmas is a Christmas is JUL
You'd be hard pressed to find a place in a world where Christmas is more thoroughly celebrated and enjoyed than in Norway.
It is a remarkable blend of religious ritual and pagan rites. The season is celebrated in a way that places less emphasis on the religious and more on the family getting together in warmth, candlelight and sheer nostalgic reveries.
For the children it is a time of discovering what the Yuletide is about, and for the older person it is a chance to celebrate and remember the Christmases of years gone by.
There is a ditty going something like this: "Now it is Christmas again, Christmas again, and Christmas lasts all the way to Easter!"
This might not be quite the case, but even if most Norwegians consider the thirteenth day of Christmas to be the end, there are those who refuse to call it quits until the 20th day after the season began.
Norwegian Christmas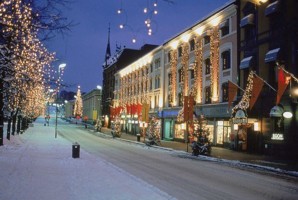 The first indication that the season is about to start may be the Postal service's reminder that it is time to send packages, letters and postcards if they are expected to reach their destination before Christmas. Keep in mind that Norway has an army of relatives manning the many ships, on the seven seas, sailing under the Norwegian flag. Not to mention such a Norwegian possession as Jan Mayen, the island between Iceland and Spitzbergen, where the mailman calls only once a year.
Then in late November, plain main street becomes a "julegate" (yule street), with all the proper embellishments and extra lighting, to remind everybody that Christmas is only a few weeks away. By then many a Norwegian has written a book for sale, and the book stores are stocked to capacity with volumes, which are promptly sold. The Norwegians like to preserve their reputation as belonging to one of the world's most avid book reading nations.
Norway is in fact the country, which annually has the greatest number of, published book titles per capita. And pre-Christmas turnover is most often the greatest.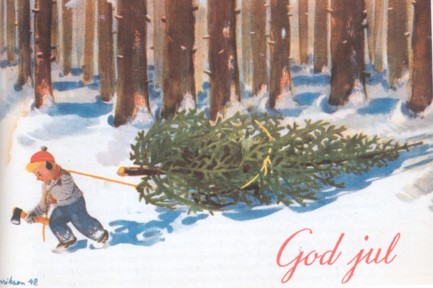 Christmas trees are plentiful in this country that is almost one quarter covered with forests, mostly spruce and pine. They are out for display and sale in market places and any vacant lot in sight.
The biggest ones go to the University Square in Oslo, outside most public buildings everywhere, to churches, schools and hospitals.
Famous painters have captured winter in Norway, such as the original painting by Monet: "Houses in the Snow Norway". Hand-painted reproductions available by clicking the image below.