Norwegian Coastal Cruises - for Christmas too!
Norwegian Coastal Cruises - for Christmas too!
Christmas Voyage in the Norwegian Fjords
Every evening of the year, a coastal steamer sets out from Bergen on the "world's most beautiful voyage" through the Norwegian fjords to far above the Arctic Circle.
These steamers have been a 1,250 mile lifeline to Norway's remote coastal towns for more than 100 years.
The Norwegians have an unswerving faith in their coastal steamers because the Coastal Express Fleet (called "Hurtigruten") always braves the elements to deliver milk, vegetables and other vital cargo. In addition, the steamers take children to christenings or newly-weds on their honeymoons. At many of the 34 ports, the Hurtigruten stop only long enough to pick up or unload goods or passengers; at others, there's time for sightseeing and shopping.
Now, tourists have discovered the coastal steamer is the perfect alternative to a traditional cruise. It is a charming, unique combination of a first-class cruise ship and a working ship with no dress code and little organized entertainment.
Norwegian Coastal Cruises
If you are a seasoned traveler who loves breathtaking scenery and enjoys getting off-the-beaten-track, meeting locals and savoring the flavor of a country's daily life, book a ticket in December to celebrate 12 days of a festive, heartwarming Norwegian Christmas.
Be sure to arrive in the colorful university town of Bergen several days before the ship departs. Rows of well-preserved gabled wooden houses line quaint alleyways and steep cobbled lanes, leading in medieval fashion down to the waterfront. Near the busy fish market, a funicular takes you up for a fantastic view over the capital of fjord Norway.
A short ride from the city center are two other interesting sites: the Troldhaugen home of composer Edvard Grieg, whose music so beautifully describes the swift harmony of the fjords, and the stave church at Fantoft. "Nothing is more Norwegian than a stave church," said our tour guide, Andie Hjeltnes. "Only 28 out of 1,000 remain, with their ceilings of pine staves like the bottom of a Viking ship."
In stark contrast to the terrors the Vikings of old faced as they rowed away from Bergen's harbor, now it's full steam ahead on large, new luxurious ships. Each of the three newest ships launched in the last few years have 50 percent more deck space than those they replaced in the 11-ship fleet.
Norwegian Coastal Cruises
The amenities on my ship, the Midnatsol (Midnight Sun) included private balconies, bars, internet cafes, an exercise room, library, and a conference center. Beautiful Norwegian paintings, sculpture and textiles decorated all of the public areas.
From a comfortable chair in the panoramic two-story lounge, I could gaze out on breathtaking, ever-changing coastal scenery. Even the saunas and glass elevators have views of the idyllic narrow sounds and open seas.
In the south, near Bergen, the low winter sun spreads a golden glow over the islands along the route. Four days to the north, there is no sun at all. At any moment, fairytale Northern lights can arise at an incredible speed to dance across the sky, filling it with shimmering colors. The lights are particularly beautiful during the winter months.
Tiny villages huddle everywhere along the rugged coast, their lights glistening like an endless string of pearls in the blanket of white snow. The basic lines and vibrant colors of the warm and inviting homes convey a sense of strength and vitality. Knut Hamsun, Nobel prize winner for literature in 1920, describes the totally different pace of life in a remote village: "There was silence above the land and only the gentle whisper of the wind and, now and then, the voice of a bird."
Despite the weather and prolonged darkness , Christmas draws this nation of strong-willed individualists together. Families decorate fragrant spruce trees indoors and out, then sit around the fire amidst the delicious aromas of freshly baked bread and cookies, an important part of Norwegians' Christmas. Preferably, there are at least seven mouth-watering kinds of cookies.
"Not everything has changed with time," said Bjorn Skei, a passenger from British Columbia returning to visit his childhood farm. "On Christmas Eve, many families across Norway observe the tradition of a quick lunch with an almond hidden inside one soup bowl. The person who finds the almond gets a small gift."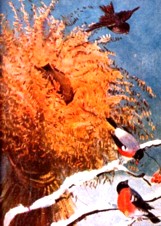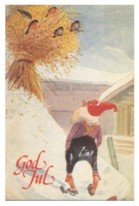 Sheaves of oats are still put out for the birds and barn animals get a little more hay.
At 5 p.m. on Christmas Eve the church bells begin to ring and people gather for the service in their Christmas finery.
Afterwards, at home the family sits down to listen to the Christmas Gospel as the children eagerly await the arrival of Santa Claus.
According to tradition, the Julenissen, or Christmas gnome (a modern-day Santa 's helper) will keep the farm in good order and be helpful if he finds his Christmas porridge and lefse (a flat bread made with mashed potatoes).
"Since ancient times it has been a tradition in Norway to celebrate with parties and feasts," said Bjorn.
"On the second day of Christmas, parties in the community begin, with the feasting continuing until Jan. 13."
Optional shore excursions provide more insights into Norway's way of life:
Tobogganing or a snowmobile safari from Kirkenes with a snack of dried reindeer meat in a Sami tent to a tour of the Polaria Arctic Experience Center or dogsled outing in Tromso or an organ concert in the world's northernmost medieval Nidaros Cathedral in Trondheim. In Hammerfest, a sleigh ride is drawn by reindeer instead of horses.
My favorite port was Svolvaer, the chief town in the 119-mile archipelago of Lofoten Islands, where my grandfather worked as a teenager on a cod-fishing boat before sailing to America.
In this realm of wind and seabirds, the scenery is straight out of a Nordic saga. Vertical granite cliffs rise up majestically from the sea, seemingly a solid, jagged mountain range. A dazzling, unreal light makes the rusty-red and mustard-yellow colors of the houses stand out even more prominently against the snow-covered landscape.
Mountains and fjords form the perfect background for the gnomes and trolls, those strange creatures that can appear during long Norwegian nights. Legend has it that "out from caverns, nooks and crannies, from beneath the gnarled roots of century-old trees come these mystical beings with eight fingers and eight teeth. Some were big and some were small, but they all played pranks on unsuspecting victims."
"Aboard ship on Christmas we do what we would do in our homes," said Hild Hagen, the Midnatsol's Cruise Director. "Everybody pitches in to create hand-made ornaments and decorate the main spruce tree together. On Christmas Eve we go into port and stay docked until midnight to attend the local parish church. After church we gather to have a drink and a festive Norwegian buffet feast.
"Then," said Hild, "the crew and passengers walk around the tree, singing carols and Santa Claus brings a sack of presents for the children. (Crew members can have their children aboard and sometimes passengers bring their children).
As the captain guided his ship through the winter night, I had a true sense of what a Norwegian Christmas was all about.
Read original post here.

Norwegian Coastal Cruises
Custom Search