Royal Copenhagen China and Christmas Plates
Royal Copenhagen China
Officially the Royal Porcelain Factory
is a manufacturer of porcelain products and was founded in Copenhagen 1 May 1775 under the protection of Queen Juliane Marie.
It is recognized by its factory mark, the three wavy lines above each other, symbolizing Denmarks three straits: Oresund, the Great Belt and the Little Belt.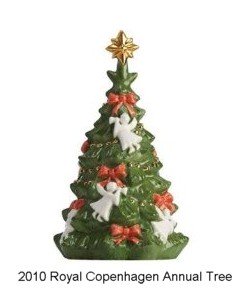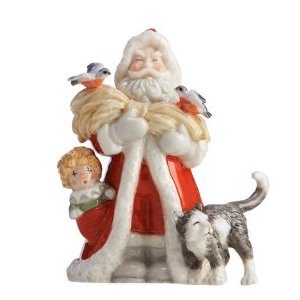 Starting in the 1600s, Europeans were fascinated by the blue and white and white porcelain exported from China during the Ming and Qing dynasties, but Danes had to discover for themselves how to produce the "white gold" (white glaze) that they found so irresistible about porcelain.
The Royal Copenhagen manufactory operations began in a converted post office in 1775. It was founded by a chemist, Frantz Heinrich Müller, who was given a 50-year monopoly to create porcelain.
The first pieces manufactured were dining services for the royal family. When, in 1779, King Christian VII assumed financial responsibility, the manufactory was styled the Royal Porcelain Factory.
In 1790, Royal Copenhagen brought out its now famous Flora Danica Blue Fluted dinner service, with gilded edge and Danish flora motifs, and Royal Copenhagen held a monopoly on the "Blue Fluted" name.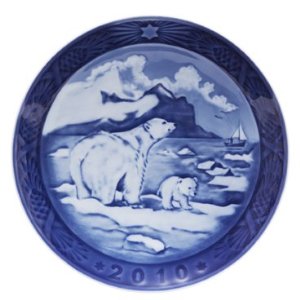 By 1851, Royal Copenhagen qualified for the World Expo in London. In 1868, as a result of royal companies' privatization, the Royal Porcelain Factory came into private hands. It was purchased by the faience factory Aluminia in 1882. Shortly after Aluminia's acquisition, Royal Copenhagen production was moved to a modern factory building at Aluminias site in Frederiksberg, on the outskirts of Copenhagen.
By 1889, Royal Copenhagen qualified for the World Expo in Paris, winning the Grand Prix, giving it international exposure.
Royal Copenhagen China for 2010:
The motif for the Annual Christmas Plate from Royal Copenhagen is as always the work of Sven Vestergaard. The artist has given us pleasure with his strong and beautiful narratives about our history and nature for more than 20 years. The polar bear is the proud king of the Arctic. One of nature's most powerful animals, but also among the most endangered, in this way symbolizing a unique strength and fragility. The polar bear adorns the christmas plate for 2010.

Royal Copenhagen China for Christmas 2010

Home page