Still dreaming of a White Christmas?
Still dreaming of a White Christmas
On the song "White Christmas": What is so amazing is how much it expresses in so few words and notes. Compared to the great classic Christmas hymns and oratorios that are performed each season — it may only be a three minute singing Christmas card — but those three minutes still cut all the way to the bone.
And it has become international - nowhere is the notion of a white christmas more familiar or more nostalgic than in Scandinavia.
In the mid 50s some enduring Christmas songs appeared that have stood the test of time remarkably well. Among them Bing Crosby's introduction of "White Christmas" and Nat King Cole's recording of "The Christmas Song".
As much as I hated the Singing Dogs and the loathsome, avaricious Chipmunks who took over Christmas music a few years later, and as numbed as I am this year by New Kids on the Block's treacly "This One's for the Children," I adored Nat (King) Cole's recording of "The Christmas Song." Because of its seasonal subject, it was a record I heard on the radio only at Christmastime.
Its dreamy Currier & Ives pictures of a mythical New England holiday filled me with longing and also an anxiety that I would have to wait a whole year before I would again experience its rush of rhapsodic nostalgia. It wasn't until I was grown up and living alone in New York that I finally went out and bought "The Christmas Song" and binged on it, playing it dozens times until I had absorbed every word, note and inflection into memory.
Cole's original 1946 recording of "The Christmas Song" is one of only two commercial Christmas hits that have touched me this deeply and continue to do so each holiday season. The other is Bing Crosby's original 1942 recording of "White Christmas." Both are old-fashioned pop ballads that express primal longings for the past in a spirit of holiday benevolence. Both are sung by baritone crooners who sound like the kindest, most understanding fathers one could ever hope to have.
The lyrics of both songs distill many of the powerful images of Christmas that bombard us from birth: pungent, snow-laden evergreens, stockings hung by the flickering card draped hearths, the tinkle of ornaments mixing with family laughter as the tree is trimmed. Although the religious aspect of Christmas isn't explicitly depicted in either song, the entire iconography of angels, bells and candlelit processionals in praise of a miraculous event is still implied.
Today, both records still stir up inchoate longings for distant, half forgotten worlds. In "The Christmas Song," which was written by Robert Wells and Mel Torme.
It is the Christmas card tableau of a 40's Hollywood movie. Cole plays the serene host of a Christmas Eve family gathering that should begin as soon as dusk falls. It is a chilly gray late afternoon in a small New England town, and there is a hint of wood smoke in the air. Jack Frost is nipping on the noses of the happy children trooping home from the skating pond. Everyone at least half believes in Santa Claus.
The record has one of the most haunting arrangements (by the King Cole Trio with string parts by Charles Grean) of any popular hit from the 1940's. A dramatic orchestral opening dissolves, filmlike, into a romantic fireside ambiance of tinkling piano and muted violins. As Cole sings the lyrics in a genial smooth-as-satin voice, little Christmas tableaux appear and fade against the embers. The song reaches a blissful conclusion when, after the warm christmas greeting, a guitar plinks out the opening phrases of "Jingle Bells."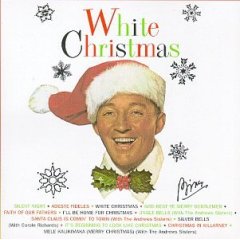 Crosby's "White Christmas" is deeper, more brooding and almost supernatural in the way it seems to have always existed.

His recording of the Irving Berlin song, which was introduced in the movie "Holiday Inn," was released in late 1942 during some of the darkest days of World War II.

Overnight it became a national reverie mixing grief, longing and hope.

And it still holds the record as the best-selling single in history, with sales of more than 30 million copies.

The deceptively simple tune is one of Berlin's masterpieces. The melody's unexpected chromatic swelling on the words "white Christmas" almost immediately lifts the song to a mythical plateau that is supported by lyrics in which the singer dreams of "a white Christmas, just like the ones I used to know." What makes the sentiment so wrenching is the implication that the modern age has forever swept away a purifying blanket that was given as a birthright.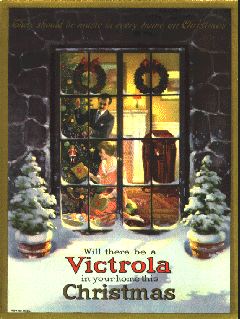 More than mere Christmas card decor, the images of snow and whiteness evoke a womblike blanket of comfort, faith, peace and love. They are childhood, forefathers, hearth, home and homeland all rolled into one. With "White Christmas," Crosby's cheerful all-American groan of a voice and the song fused into a once in a lifetime expression of an entire nation's self-image.
Musically, his singing epitomized the pop culture ideal of the good neighbor, someone fatherly but not overbearing, spiritual but not dogmatic, reasonable but also sentimental - in short, the man next door who was also your best friend. His singing warmed Berlin's primal nostalgia and made it homey. If the white Christmases of our dreams would never be lived out, his singing suggested, the dream was an ache that everyone shared and that ennobled us because it was a form of faith.
On the record, Crosby's solitary voice is joined early on by the Ken Darby Singers, who formalize the song into a communal carol and soften its edge of yearning. Crosby also adds/injects a note of whimsy by whistling several bars. As the record ends, with his voice the most prominent in the choir, sadness has given way to cheerful if solemn affirmation.
For me, the tug of "White Christmas" is as deep and poignant as ever. What is so amazing is how much it expresses in so few words and notes. Although compared to the great classic Christmas hymns and oratorios that are performed each season, it may only be a three minute singing Christmas card, those three minutes still cut all the way to the bone.
(Adapted from an article by Stephen Holden, 1989)

White Christmas