Yuletide - Old Christmas
Yuletide - Old Christmas
A delightful account of festive christmas holidays was written by Washington Irving and includes five incomparable essays. It was written well over a century ago, his sketches "celebrate the celebration" with heartwarming descriptions of Yuletide events.
He recalls with warmth and wonder his many colorful experiences of a traditional Christmas while a guest at an English estate in the 1870s - from the Christmas Eve trip by a stagecoach filled with "rosy-cheeked boys" returning from school, and scenes of domestic hilarity during holiday games, to solemn services at the village church and the return home to a sumptuous holiday dinner.
One reviewer had this to say:
"I read this every year lately, and it's a nice, low-key, sad and happy little way to mark the Christmases passing. Washington Irving wrote it in the early 1800s -- the dates of most of his "Sketch Book" are right around 1819 or 1820 -- and the story is mostly a reminiscence about even earlier Christmas traditions.
Then it took until 1894 for this edition to be printed, with the illustrations by Caldecott. Later the facsimile edition I have was printed, in maybe the early 1980s... For a little book about Christmas past to have made it through all those years, and come down to me in this personal "sketch," is a glad thing. Coming back to the same copy year after year makes a nice little private tradition.
The text to this is available in a few places on the Web. That's an okay way to get to know the language, but a facsimile of the original book, with the illustrations, is still worth the few dollars it'll cost. The Caldecott who illustrated this is the one for whom the children's book award was named, among other things. You need to read this one next to the Christmas tree, not by the glow of a computer monitor."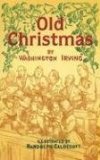 Enhanced with more than 100 illustrations by noted nineteenth-century artist Randolph Caldecott, this engaging book helped nurture America's recognition of the holiday.
A quote from the book:
"There is nothing that exercises a more delightful spell over my imagination than the lingerings of the holiday customs and rural games of former times. They recall the pictures drawn in the May morning of life, when as yet I only knew the world from books, and believed it to be all that the poets had painted it; and they bring with them the flavor of those honest days of yore --- "
Perfect for gift-giving, the collection elicits from a master storyteller a magical remembrance of Christmas past.

Ancient Yule

Yuletide - Old Christmas