Christmas Carols History
Christmas Carols History
Christmas Carols in Europe and North America
The singing of carols is the oldest of Christmas customs. The ancient tradition of carols - christmas carols history - was revitalized after nearly two centuries of dormancy in the years 1823 to 1848.
"A visit from St. Nicholas," was written by Clement Clarke Moore in 1822, and that same year a small collection of carols was published: Some Ancient Carols, With The Tunes to Which They Were Formerly Sung in the West of England.
A collector, Davies Gilbert, wrote wistfully in the preface:
"The Editor is desirous of preserving the following Carols or Christmas Songs in their actual form, however distorted by false grammar or by obscurities, as specimens of times now passed away, and of religious feelings superseded by others of a different cast. He is anxious also to preserve them on account of the delight they afforded him in his childhood. . ."
Christmas Carols History
Then in 1833, a collection of more than two hundred carols was published: Christmas Carols, Ancient and Modern. There was a long introduction written by William Sandys, giving the history of the Christmas Festival and of Christmas carols. This was part of the revival of the carol.
You might ask, what is a Christmas carol? The question is not as silly as it may at first appear. Singing at festivals is as old as festivals themselves. Ancient Egyptians and even the Druids used music in their sacred rites. And so did the Romans and the Greeks. The earliest Christians sang psalms and hymns during their festivals and the vigils of their saints. Sacred or profane, it is obvious that music and singing was very much a part of celebrations and festivals.
The term "carol" originally meant songs intermingled with dancing. As time went along, it was applied to festive songs in general. Since Christmas is the most festive period of the year, carols came to be thought of almost exclusively as Christmas carols.


Christmas Carols History
Christmas songs have been so many and so varied that perhaps we should settle on this definition of a carol: any song that celebrates any aspect of the Christmas season.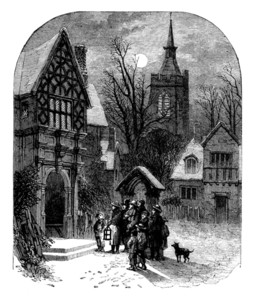 Christmas Carols History
For hundreds – if not thousands – of years, hymns were written by the clergy in the Latin of the Church of Rome and the Greek of the Eastern Orthodox Church.
Then by the thirteenth and fourteenth centuries Christmas songs began to appear in the languages of the people, both on the Continent and in England. It was thought that this would bring the meaning of Christmas closer to the people through this music.
Another popular pastime during this period was miracle and mystery plays serving to popularize religion. And carols were used in such plays.
Christmas Carols History
In the book "Inventing Christmas" the story of "Silent Night" is told this way:
In 1818, "Silent Night" was created under the most unusual circumstances.

Place: St. Nicholas Church in Oberndorf, Upper Austria.

Time: The day before Christmas.

Problem: The organ had become rusted and wouldn't play. No music for the Christmas Eve service!

Solution: The assistant priest, Father Joseph Mohr, jotted down a six-stanza poem that began, "Stille Nacht, Heilige Nacht" and took it to the local teacher, Franz Gruber, who doubled as organist. Gruber composed a simple tune. At the service, they sang it together, Gruber accompanying on the guitar. Thus was born one of the world's most popular Christmas carols.
In Scandinavia "Silent Night" can be found translated into "Glade Jul, Hellige Jul".Ask any Norwegian, for example!
The first great American carol was "It Came Upon a Midnight Clear", composed in 1849. It was following in 1857 by "We Three Kings of Orient Are" and "Jingle Bells," and in 1868 by "O Little Town of Bethlehem."
This followed the period from 1823 to 1848, when so many of the Christmas customs we know today were invented.
---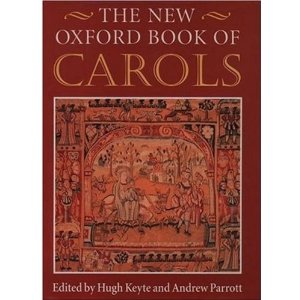 Review of The New Oxford Book of Carols
'It is hardly an exaggeration to say that the publication in 1992 of The New Oxford Book of Carols caused a sensation. For many of us it showed for the first time the extent of the carol repertoire from all over the world, and in particular, presented those carols we thought we knew best in versions that were as near to being authentic as could be deduced.
The performance traditions of the nineteenth and twentieth centuries were stripped away, and the pieces could be appreciated afresh.'
------Esther Jones, Church Music Quarterly, December 03
Christmas Carols History
Edited by early music experts Hugh Keyte and Andrew Parrott, this anthology of Christmas carols is the most comprehensive collection ever made, spanning seven centuries of caroling in Britain, continental Europe, and North America.
Containing music and text of 201 carols, many in more than one setting, the book is organized in two sections: composed carols, ranging from medieval Gregorian chants to modern compositions, and folk carols, including not only traditional Anglo-American songs but Irish, Welsh, German, Czech, Polish, French, Basque, Catalan, Sicilian, and West Indian songs as well.
Each carol is set in four-part harmony, with lyrics in both the original language and English.
Accompanying each song are detailed scholarly notes on the history of the carol and on performance of the setting presented.
The introduction to the volume offers a general history of carols and caroling, and appendices provide scholarly essays on such topics as fifteenth-century pronunciation, English country and United States primitive traditions, and the revival of the English folk carol.
The Oxford Book of Carols, published in 1928, is still one of Oxford's best-loved books among scholars, church choristers, and the vast number of people who enjoy singing carols.
This volume is not intended to replace this classic but to supplement it. Reflecting significant developments in musicology over the past sixty years, it embodies a radical reappraisal of the repertory and a fresh approach to it.
The wealth of information it contains will make it essential for musicologists and other scholars, while the beauty of the carols themselves will enchant general readers and amateur songsters alike.
---
Christmas Carols History

Read "Inventing Christmas"
Custom Search