Christmas Cookie Norwegian Recipe
Norwegian Christmas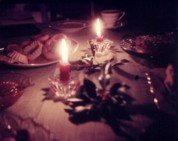 Christmas Cookie Norwegian Recipe
Jul - the Scandinavian word for Christmas
It is the same word in Denmark, Norway and Sweden, "jul", and the greeting is: "God Jul" meaning Merry Christmas in Norway and Sweden, and in Denmark it is "Glaedelig Jul". Christmas eve is December 24. Though Christmas Day is an official flag day, Christmas Eve is the high point in the celebration of Christmas. It traditionally starts with the ringing of bells from all the country's churches around 5 o clock on Christmas Eve.
Christmas Cookie Norwegian Recipe
Many a Christmas Cookie has already been made in preparation for the big day.
A Childhood Memory I remember as a child, going out to stand on the doorstep in the chill air to listen for the churchbells ring in the holidays. That was always around 5 pm on Christmas Eve, it meant that now it was finally Christmas!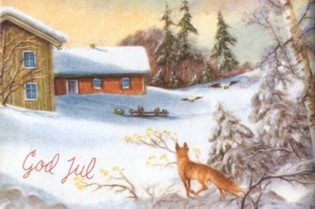 In most communities there are services on all three days, December 24, 25 and 26, and morning services on Christmas Day and Boxing Day. But for Norwegians it is Christmas Eve that is the "real" Christmas when many people go to church to join in the singing of traditional carols.
Preparations for Christmas start in the home when Advent stars and wreaths are placed in the windows and Advent calendars opened.
"Christmas Cookie Norwegian Recipe" belongs in the Norwegian home, and genuine Swedish, Danish and Finnish recipes dominate the homes in those contries. Many recipes are similar in all the Scandinavian countries.
Christmas Cookie Norwegian Recipe
Here's one that qualifies as a Christmas Cookie Norwegian Recipe, but it is remarkably similar to the recipes in other Scandinavian countries:
CHRISTMAS COOKIE NORWEGIAN RECIPE
| | |
| --- | --- |
| 2 eggs well beaten | 2 cups brown sugar |
| 1 cup butter | 2 teaspoons ginger |
| 1 teaspoon lemon juice | 2 teaspoons baking soda |
| 2 teaspoons cream tartar | 4 cups flour |
| 1 cup coconut | |
Make small round balls - press with fork or glass dipped in sugar. Bake in 400 F. oven.
ALMOND SQUARES






4 eggs
1 1/2 cups sugar
3/4 cup butter
1 1/2 cups flour
Peel of 1 lemon grated
1/2 cup currants
1/2 cup almonds


Crushed cube sugar




Cream butter and sugar - add egg yolks one at a time - add lemon peel. Sift in flour and fold in egg whites. Put in a shallow pan, top withblanched and chopped almonds, currants and crushed sugar. Bake inmoderate oven 20 to 30 min. Cool and cut into inch 1-1/2squares. Store in tins.

interesting christmas cookies/recipes using rhubarb
In olden days Christmas preparations in the home were many and protracted. On the other hand, Christmas lasted right until it was "sung out" either on the 13th day of Christmas (Epiphany) or on the 20th day, a good way into January.
Christmases of the past focused on food and good company. At this period of the year there was plenty of time to eat and enjoy the company of others without having to think about major tasks.
The modern, secularised Christmas focuses on gifts but the tradition of Christmas as a family gathering is deeply rooted in the Norwegian consciousness.
Since Christmas is an ancient tradition combining the old and the new, the familiar and the alien, there is no celebration in Norway that is connected with so many symbols.
The central ones represent different contexts of opinion, both religious and secular. Nowadays we decorate our homes with stars and shining garlands, with hearts, candles and angels, with evergreen trees and sheaves of corn and with nisser, mice and reindeer.
Christmas is also nostalgia, a longing for what is past. The traditional food therefore has a strong symbolic significance. And we also think it tastes good!
Christmas fare should not be eaten at other times than Christmas, and there is no Christmas without certain types of food .
The good housewife must serve seven kinds of cake. If she cannot bake them herself she can buy them.
Traditional Christmas fare varies from region to region. In West Norway it is pinnekjøtt - salted and dried ribs of mutton. In the south it is boiled cod with red wine. In the south east and most other parts of Norway, Christmas dinner is roast pork.
Christmas fare, more than anything else is an indication of how traditions from different families and regions of the country can be mixed.
In more recent years the Christmas menu has been inspired not only by the rich variety of Norwegian food but also by impulses from other cultures.
Few celebrations are quite as warm and inviting as a genuine Scandinavian Christmas.
In the book "Authentic Norwegian Cooking" you can find the most inclusive information available on Norwegian foods, including Christmas Cookie Norwegian Recipe(s).

---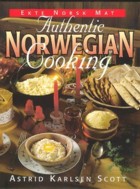 Authentic Norwegian Cooking
Dedicated to promoting and preserving Norwegian tradition and cultural heritage, Astrid Karlsen Scott is an emigrant from Oslo, Norway, and president of Nordic Adventures. In Authentic Norwegian Cooking, Astrid has compiled more than three hundred wonderful recipes showcasing Norway's culinary history.
Enahanced with 16 pages of color photography, Authentic Norwegian Cooking also features a "Norwegian Table Prayer"; party suggestions, "Special Helps", and a "user friendly" recipe index.
From Dyrestek med viltsaus (Reindeer Roast with Game Sauce); Norvegiafylte poteter (Norvegia Filled Potatoes); and Eggedosis (Traditional 17th of May Dessert); to Seterjentas rommebrod (The Dairymaid's Wafers); Gjetost dessertsaus (Goat Cheese Dessert Sauce); and Stekt gaas (Roast Goose).
Authentic Norwegian Cooking truly lives up to its title and would make a welcome addition to any kitchen multicultural and ethnic cookbook collection!

---
A Baker's Field Guide to Christmas Cookies
Christmas Cookie Norwegian Recipes
Custom Search