Scandinavian Christmas Decorations
Scandinavian Christmas Decorations... as seen in all the homes of Scandinavia - rich or poor - in Denmark, Norway and Sweden.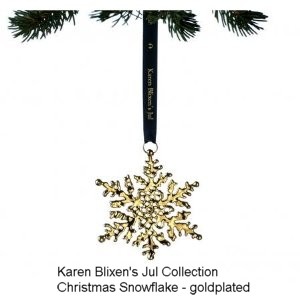 NORWAY'S JULAFTEN (Christmas Eve)
December 24
Christmas preparations start weeks in advance. On the farms in the countryside in the old days the family pig and calf were slaughtered in November and the meat made into all sorts of delicacies. There were also the hams, the cutlets and the pickled pigs' feet--all important to two weeks of Yuletide hospitality.
A tour through the countryside at this time of year will reveal an essential element of Scandinavian Christmas Decorations, the "Julenek", a sheaf of grain set out as a feast for the birds. It's either on a stake or attached to a high point of the roof of a farm house...
In the past, the traditional lutefisk, or Christmas dried cod, had been slowly dried to give it strong flavor. Then soaked in a lye solution until it swells to a trembling jellylike mass. It should be said that "lutefisk" is not as common today as it once was - some Norwegians turn up their nose at it nowadays.
Among the seasonal baked delicacies still very much in evidence are fancy gingerbreads and cookies for the Christmas tree - another variation of Scandinavian Christmas Decorations - as well as many kinds of delicious coffee breads and small cakes to accompany steaming coffee or holiday punch. One obscure tradition was to have fourteen different kinds of small cakes--one kind for each of the fourteen days of Christmas entertaining.
In addition to the cooking, the semi-annual family washing was done, brasses and coppers polished, curtains hung, and enough wood chopped to last for two weeks of holiday fires. Each home coming up with their own version of Scandinavian Christmas Decorations.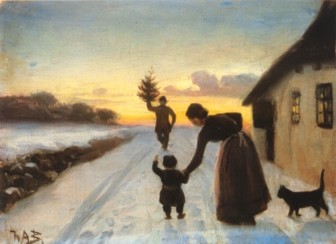 Above: A Danish painting, "Arrival of the Christmas Tree"
Scandinavian Christmas Decorations
To Norwegian country people Jul is the season of peace on earth and good will to all of God's creatures. Nobody thinks of hunting or harming wild animals or birds during the Christmas season. A sheaf of wheat or oats, attached to a pole and placed in the yard or on top of houses or outbuildings, furnishes plentiful cheer for birds and gives a characteristic example of Scandinavian Christmas Decorations.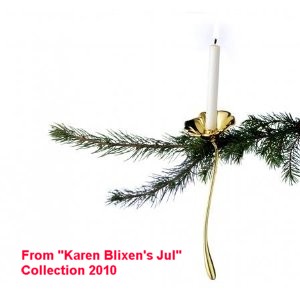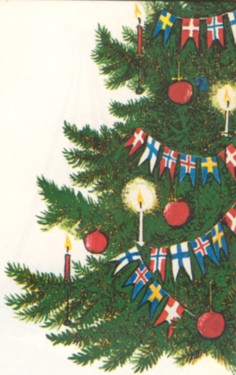 Horses and cows have extra feedings of the best oats and barley on Julaften. In olden days the animals received their holiday rations with the traditional greeting, "It is Christmas Eve, good friend. Eat well." There is a story from the valley of the river Driva about the careless farm girl who neglected to feed one of the cows on Christmas Eve and so brought dire misfortune upon herself.
Christmas eve starts officially in the late afternoon with the ringing of the village church bells. By then everything is in readiness for the holiday.
Stores and shops - where the windows are replete with authentic versions of Scandinavian Christmas Decorations - are closed and the "Christmas peace" descends over every Norwegian town and hamlet. In homes the entire family, including the father, mother, children and guests, gathers round to partake of the traditional treats.
For supper the usual hot and cold appetizers are served in staggering array. Then there are "ribbe", pork ribs, accompanied by boiled potatoes and sauerkraut. In some coastal areas boiled cod, fresh from the ocean, is served with melted butter and boiled potatoes. Each region has its own favorite dish for the celebration of Christmas Eve.
Cakes and sweets and "risengrynsgrøt," or rice porridge, end the meal. The porridge is made with a single almond in it, and whoever finds it will either "have luck" throughout the coming year, will win a prize or will be first to wed!
After supper the closed doors, which have been hiding the Christmas tree - another fine example of Scandinavian Christmas Decorations - from the children, are thrown open and the glittering tree is revealed in all its breathless beauty. The tree is lighted with either small candles or electric candles made to look like the real thing - the tree is decorated with all kinds of tempting cookies, garlands of tiny flags, red apples, and of course the ornaments that have been in the family from year to year, and gingerbread figures.
The father of the family usually reads the Christmas story from the Bible. Old and young join hands and walk about the tree, singing well-loved Christmas carols.
Often the Julenisse, himself a traditional part of Scandinavian Christmas Decorations - the gnome who wears a red pointed cap and has a long flowing beard, brings the children's Christmas presents.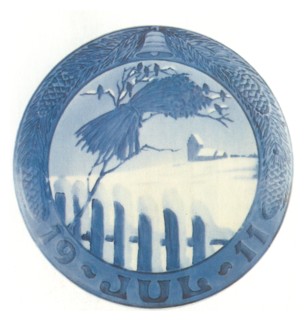 Traditionally, the little man dwells in attic or barn and is guardian of the family's welfare. It is wise to please the Julenisse because he is apt to mix up the milk tins, tangle the horse's manes, and even make the cows sick, if he doesn't like your household. Consequently, every family tries to keep things orderly and pleasant, without harsh words or needless bickering. The children are careful to do their share, too, and every Christmas Eve they remember the little man with a bowl of "risengrynsgrøt" -- which surely is appreciated, because by morning it always is gone.
You can read more about "Festivals of Western Europe" in the book of that title published in 1958 - if you can find it in your local library or "rare books" store.
JULEDAG (Christmas Day)
December 25
Everybody attends Christmas morning church services. Generally the rest of the day is spent quietly at home. In the afternoon boys and girls try out new skis, skates, or sleds, but few parties are held until Second Christmas Day.
Throughout the Yuletide season breakfast is a gay and tremendous meal. Long tables, decorated in the holiday spirit, groan under sometimes as many as thirty or forty different kinds of delicious hot and cold dishes. Aquavit and other strong drinks accompany the food and make the holiday breakfasts really festive occasions.
ANNEN JULEDAG (Second Christmas Day)
December 26
The Second Christmas Day is a time for parties and visiting. Factories, places of business, and civic organizations have parties for their employees on this day. Many children's parties are given in mid-afternoon while adult gatherings often start in the evening and continue throughout the night. In rural districts Christmas hospitality is at its height. In some places people adhere strictly to the old tradition that passers-by, regardless of age or social status, must stop in at every farm along the way and partake of food and drink.
In olden times the day after Christmas, known as Saint Stephen's Day, was devoted to the mad sport of horse racing over the icy roads. There is an old rhyme which says that: Saint Stephen was a stable boy, He watered his five foals.
Christmas Decoration
Christmas Unique Decor
An example of authentic crafts - The Woven Coverlets of Norway - click illustration below
Norwegian Coverlets


A reviewer had this to say: "This book is NOT a beginner's how-to. It is a highly readable cultural reference book about weaving.
It would be a useful addition for anyone making hand-woven textiles.
Anyone who likes to apply older techniques in modern textile settings (not just weaving), and anyone interested in the cultural history of Norway and for Norwegian-Americans.
In short almost everyone interested in Norway."

Scandinavian Christmas Decorations



Custom Search